Overview: 2021 GLA 250 4MATIC (Digital White Metallic)
An overview of second-generation Mercedes-Benz GLA in Digital White Metallic
Related Article
Related Videos
HD
11:1
Overview: 2021 GLA 200 Edition 1 (Mountain Grey Magno)
Jun 20, 2020
An overview of second-generation Mercedes-Benz GLA Edition 1 in Mountain Grey Magno finish.
HD
8:37
Overview: 2018 Mercedes-Benz GLA 220 d
Apr 12, 2017
An overview of Mercedes-Benz GLA 220 diesel in canyon beige finish, covering interior and exterior design and driving shots.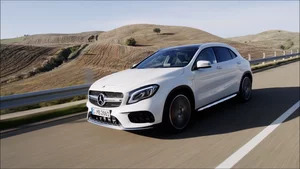 HD
6:9
Driving: 2018 Mercedes-AMG GLA 45
Jan 09, 2017
Driving scenes of newly updated Mercedes-AMG GLA 45 4MATIC in Cirrus White color.